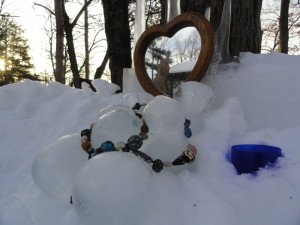 Winter Witchcamp is co-created by a dedicated group of people, led by a small team of weavers who manage the preparations for camp and ensure that it runs smoothly.
The continuity committee facilitates theme, story, and teacher selection.
Teachers wind deep learning and rituals around the stories and themes we discover together each year.
The bower priestesses support the healing and loving bower spaces and magic each year.
The hearth creates the meals that sustain our bodies, and in the new space will provide hearth magic in some new way.
The harmony cell and priestesses address conflict and balancing through mediation and ritual.
All are assisted by many spinners who volunteer to manage a single task or set of tasks, from logistical and tactical before and during camp, to storage of supplies, to fundraising and other events during the year.
We are all part of the web of this experience.
Weavers can assist with routing and addressing feedback, as can the harmony cell for engagement when leadership decisions need to be addressed.
We truly welcome your questions and feedback about Winter Witchcamp through the contacts below. You may also communicate with the Winter Witchcamp community by joining our Yahoo group and private Facebook group. Info on joining those groups is below.
Karin, Registration Weaver, WWCRegister@gmail.com or (320) 428-0193 (leave a msg & we'll call you back)

Winter Witchcamp, P.O. Box 7202, Minneapolis, MN 55407
To join our Winter Witchcamp Facebook group (kept private on FB), please email us with a request.
To join our Winter Witchcamp Yahoo Group, send an email request to WinterWitch-subscribe@yahoogroups.com
For feedback on the last camp or anonymous feedback any time, go to Camp Feedback
To engage the balancing process for an issue with a leadership decision of any of the camp organizing teams send an email, video or audio message to WWCHarmony@gmail.com.