Amoret (she/her)
I am a northern Appalachian Witch, mother, partner, poet, teacher, student and creatrix that uses she/her pronouns. Born in Chicago, I have lived in Pittsburgh, Pennsylvania for 14 years on the lands of the Osage, Shawnee, and Seneca peoples.  Though I am not native to this region, I call it Home.
As an animist, I honor the wisdom of my locality and the living breadth of our plant and animal communities, listening for the sacred in words, woods, song and silence.  I gather messages from runes and tarot cards, and from the sounds of tree roots stretching and the drumming of heartbeats. Dedicated to Freyja and Óðinn, I work with Norse oracular practices.
I've been involved in the Reclaiming Tradition for 19 years, teaching and facilitating workshops, rituals and skill shares to foster the growth of leaderful groups. As a member of Reclaiming Pittsburgh and as an initiate in the Reclaiming and Feri traditions, I engage with the Mysteries in my communities and within myself.
Above all, I am a synergist. What is the unique, vital and necessary gift that you bring to the moment at hand, and how might we utilize our gifts together to create lasting change?
Dawn Isidora (she/her)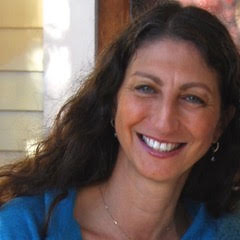 I come from the lands of the Ohlone peoples (named San Francisco by European Americans) and the vibration of that place still resonates in my bones as Home. It was there, in the early 80's, that I first found the Reclaiming Tradition. Drawn to its feminist, Earth-based spirituality that centered activism for the earth and civil liberties for all her peoples, I found my Spiritual Home. Washed north by one of the early waves of the city's prosperity, I nestled into the side of a dormant volcano in the beautiful green and grey land of the Multnomah and Clackamas Chinook people (commonly called Portland, Oregon). I have raised my two sons here. I have gardened in this dense, rich clay soil. I have built and rebuilt community here. I rest the shadow of tall straight Douglas Firs and awake to the call of crows. Now this place is Home.
Identity has always been an elusive creature for me; I struggle with any sentence that begins with I am a… Born under a Capricorn Sun and Virgo Moon, I seem to be too grounded to be a proper mystic and too mystical to be a proper anything else. I have made my way along edges and liminal spaces – teaching, mentoring, counseling in response to community needs. Having been through initiations of my own (Reclaiming, Feri and others) and having done the labor of love of that is the work of initiating others, this story of Gullvieg/Heidr strongly reverberates within me. I find connection, my pathway to Spirit, through relationships – with my Self, my family/friends/communities, the Elements, the Godds, the land, and Mystery herself.
As I move into my third and final year of continuity teacher, I am so grateful to have had this time with Winter WitchCamp community. I carry your gracious hospitality as a precious gift in my heart. I carry your willingness to learn, to open, to make mistakes and to try again as treasured learnings in my soul. I cannot wait to see what we create together this year!
Irisanya Moon (she/her)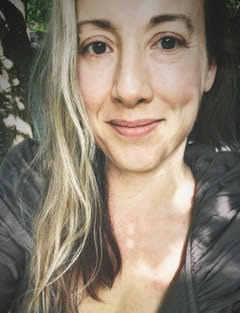 I am a Witch who lives on the land of the Wappo, Southern Pomo, and Graton Rancheria in what is today known as Santa Rosa, CA. I am a priestess, teacher, writer, ritualist, drummer, love spell, Sagittarius, and Reclaiming initiate who has been practicing magick for more than 20 years.
I attended my first California Witchcamp in 2008, took the core classes in and have organized rituals for North Bay Reclaiming since 2009, started teaching classes in 2010, and began teaching at Witchcamps in 2013. My teaching has taken me from California to Canada, Texas to Australia, the UK to Minneapolis, to Maryland and back to these wise lands of snow and ice.
I am committed to fostering sacred connection and resilience in community through writing, trance, song and rhythm, story, tears, and laughter. I am devoted to Aphrodite, and work closely with Norse and Greek godds. My work is informed by training in the Blackheart Feri tradition, as well as the wisdom of opening up to Mystery.
I am honored to return to Winter Witchcamp as I begin my journey in the Continuity Teacher role. May our magick together be blessed with joy and fierceness and spill out into all the worlds.
WEBSITE: www.irisanya.com
PATHEOS PAGAN BLOG: https://www.patheos.com/blogs/chargedbythegoddess/

Jarrah – (he/him)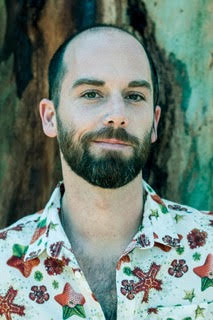 I am a passionate witch from Oz, a poetic clown, and a feral gardener with a roaming background in counseling studies and applied theatre. I grew up on colonised Gubbi Gubbi land on the Sunshine Coast and have now been based in Brisbane (Jagera and Turrbal country) for 13 years. These landscapes of South East QLD – the mountains, rainforests, rivers and coasts, the gorgeous seasons and starlit southern skies – are a beloved magical teacher and ally.
I care about creating powerful containers for self-exploration and rituals of meaning, miracle and transformation. My practice centres Play and creative expression, reverence for Beauty, the Earth and the Wild, devotion to vast landscapes and tiny mycelial and planktonic wonders, and committing sorcerous will to the dismantling of Empire. I have taught witchcraft for a number of years, in Reclaiming and other traditions. I am devoted to my mountain-hearted Reclaiming community of Oz, particularly CloudCatcher WitchCamp, and have danced in the many costumes of teacher and organiser, but most enthusiastically as Land-loving-listening-turtle-bearing-trickster. I'm profoundly enchanted by the living chatter all about us: spirits whispering in the rippling membranes of microbes and the warping motions of star-weeping galaxies.
I'm thrilled to visit and work with this potent story of Gullveig and the fabled camp community who are drawn in deep by the magical power of Winter.
Lisa Valkyrie (she/her)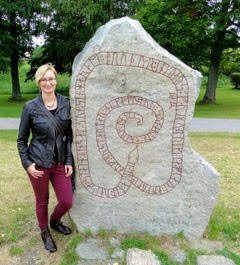 Born on Odensgatan (Odin's Street) in Uppsala, Sweden, I grew up on Algonquin territory in small-town Canada with the moose and bears before finally ending up on beautiful Wurundjeri country in Melbourne, Australia. I was introduced to my beloved Odin, Freyja, Thor, and Hel long before I ever heard of a Christian god (thanks mom!) and therefore they reside deep in my bones. The trolls and gnomes have also followed me on my travels – turns out they find wombats as adorable as I do!
I have been practicing Reclaiming-style magic for nearly 25 years. My activism takes the form of general shit-disturbing, rewriting gender policy, and creating avenues for Indigenous health initiatives and cultural education. I have devoted a large part of my life to understanding how our bodies function and to developing better treatments for those of us who are severely ill. My spirituality and scientific mind are inseparable and so my magic gets experimental. I relish embodied magic, gritty transformational work, and a good old-fashioned belly laugh. The dead are my allies in almost all the magic I do.
Over the years, I have been active in the Australian and international Reclaiming community as a witchcamp organiser, general lackey, teacher, and bower priestess. I know all roles in community to be equally necessary and sacred. To be able to work a story of my homeland with a community that has such a longstanding and deep connection with the Scandinavian gods means a tremendous amount to me. I feel honoured to be able to be of service in this capacity.
I am Pablo or Pabs (he/him them/their)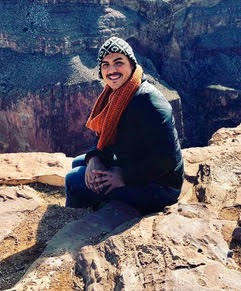 … and I'm a queer gemini reclaiming Witch. I was born in Chile on the traditional lands of the Mapuche people under the watchful eye of the Andean mountains. I was born during the time of Pinochet's military dictatorship, and because of it my family and I were forced to flee Chile in the late 80's. Australia at the time having a more compassionate refugee policy granted us asylum. So in 1989 on a humid easter Saturday, we arrived in Sydney where we made our new home. I grew up on Tharawal Country and now live on Cadigal-Wangal Country with my partner, a fluffy white dog, and an aloof cat.
I attended my first WitchCamp back in 2017 and have been in love with Reclaiming style magic and community ever since, taking core classes as well as attending and helping organise Reclaiming style rituals in the Sydney region. CloudCatcher WitchCamp is my home camp (even though its a full day's drive away). I fall in love over and over again with reclaiming, how it empowers us to connect with our true selves and the world around us to do this life changing and world changing work that is magic.
I attended Winter WitchCamp in 2019 as we stepped into the story of the Labyrinth. Enchanted by Winter's kiss, I'm excited to have been drawn back to this magical community this time as a teacher to work with the story of Gullveig and all the magical lessons she has to offer.
Raven Edgewalker she/they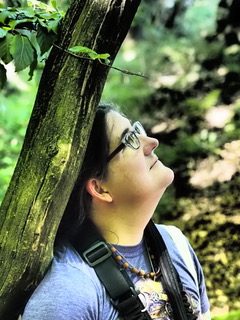 I'm a British Witch who dwells in the magical landscape of Somerset, close to the magical Glastonbury in an old stone cottage with my large, hairy and devoted hound. I have long had a passionate love affair with the natural world. I see my work in the world as that of building connections, with self, with each other, with and within community, with the world, with deity and with seen and unseen beings. I've has spent many years walking the land, listening to the songs, stories and poems that it has to offer, deepening my connection with this glorious earth and learning how to guide others to open to deeper connections of their own.
I have been working, studying and teaching magic in both the Anderson Feri and Reclaiming traditions for many years and I'm an initiate in both traditions. This year I've been teaching Reclaiming Magic for 21 years(!!!). One of my passions is to travel and I'm is delighted to be able to combine this my passion for teaching and mentoring individuals and community: I've taught courses, classes and Witchcamps on three continents as well as online classes from wherever I happen to have traveled to with my laptop, via the World Tree Lyceum mystery school.
I'm fortunate enough to be self-employed and own a 21 year old pagan arts and crafts business – I'm often to be found in the workshop, covered in sawdust and twigs while making ogham staves, runes, wands and other such delights, in the studio with wire and stones and beads creating jewelry, hunched over my sewing machine or hiking the fields with a camera. I'm a professional ogham reader, writer and poet and general jack-of-all-trades, as the need takes me.
I'm supper excited to be dusting off my snow pants and coming to Wintercamp for the first time and sharing in it's magic.
River Roberts (she/her)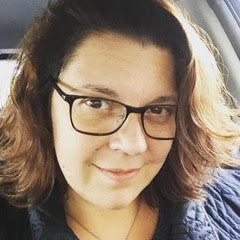 I currently live on Potawatomi, Miami, and Peoria land in what is now called Chicago, Illinois. I am a Midwesterner through and through, and I believe that my magical and spiritual practice reflects that kind of hospitality, inclusion, and community connection. I have been involved with Reclaiming as a teacher and camp/community organizer since 1998, and am blessed to have had that work take me around the world. My primary training came through the Diana's Grove Mystery School, where I served as a staff member and one of the main ritual arts mentors for several years. For the past 7 years, I have also been involved with Expanding Inward, a facilitation team made up of former Diana's Grove staff members who have been offering work that is heavily influenced by our time and service there.
The way I access spirit and the divine is through my body and my voice. I am a drummer, singer, and ecstatic ritual artist. My goal as a teacher is to make this life-changing work accessible, engaging, and impactful – no matter how that may manifest for each individual. The Mysterious Ones who have claimed me are all from the Greek pantheon (Aphrodite, Artemis, and Persephone) – but I am an equal opportunity polytheist and always feel welcome in the Wintercamp halls with Freya and the rest of the Norse gods.
I was a student teacher at the very first Winter Witchcamp, and it has been so exciting to be a part of its continuing evolution throughout the years. I am thrilled to be returning after being away for a while. This community has a very special place in my heart, and I am looking forward to reconnecting to the unique magic that only this camp can weave.