Weaver team for 2017 Camp
Intention: We are weaving a thriving Winter Witchcamp community: for our past, for our future, and for those who may one day join us. We are grounded and rooted as we do the work of relationship building. We nourish ourselves and we nourish others. We acknowledge that we are holding the potential of what is to come.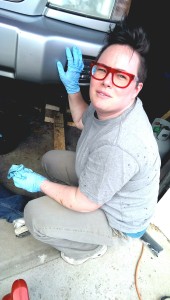 Chuck has lived and loved in Minneapolis for 16 years, finding their home in Reclaiming several years ago through Anderson Feri. They have long love affairs with poetry, justice, board games, equity, poetry, camping, and cooking, and are raising a 5-going-on-15 year old, witty, and whimsical clone of themself, while also trying to figure out what they want to be when they grow up. Chuck relishes being teachable every miraculous day and deeply appreciates the grace and growth afforded by service to camp and local community.
"My call is the call of battle, I nourish active rebellion…"
– Walt Whitman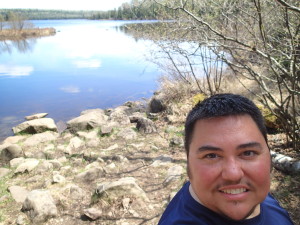 Max is a queer and genderqueer witch who teaches private piano lessons and has a job in information technology. With their band Salted Honey, Max sings, plays piano, flute, and drums, and is passionate about music-making. They grew up in central Wisconsin and have ancestral roots in Hungary and Germany. They love canoeing and kayaking, playing games and cards, taking photos, adventuring in the outdoors, and taking delicious naps. Max has spent many years community building and organizing, especially in queer and trans communities and more recently in Upper Mississippi Valley Reclaiming and WWC communities. Max has attended Camp since 2010 and is honored to be a third year Weaver and your current Registrar.
Harper Evan is a queer trans* witch who has been practicing in the Reclaiming Tradition for 4 years. They have extensive practice in consensus based community organizing, having lived in co-ops for the majority of their adult life. They are passionate about accessible healthcare in LGBT communities, hanging out with plants, making potions, and snuggling their 6 year old pit bull, Zazie. Harper is psyched to be serving on the Weaver team.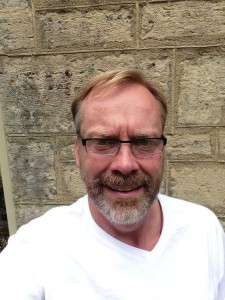 Carey's first Reclaiming experience was Winter Witchcamp 2014, where he quickly fell in love with this community. He is studying under Christopher Penczak and is always on the lookout for opportunities to grow his knowledge and abilities. Carey's work in the pharmaceutical industry keeps him traveling throughout the USA often, but between trips you will find him at his peaceful Minnesota hobby farm where currently has honeybees, a few cows, and an uncatchable goat. He enjoys distance running, camping, climbing trees, entertaining, pretty much anything with chocolate on it, and spending time with his three kids.
SarahBasil is a pastor's daughter gone deliciously wrong, but they still read junk mail when it's addressed to them, and have a hard time driving over the speed limit. Their path to Reclaiming was through queer community. Ecstatic ritual and embodied Mystery are special joys. Three-quarters of their heritage has a connection to Bern, Switzerland, which would be weird if it weren't so cool. They admire the stoutness of their ancestors and the wildness of their present beloved communities. Laughter is their default, because life is absurd, really, but they cry easily, too. They can't stop reading, and sometimes can't stop talking. Oh, and there's some tattoos, some dogs, some cats, a sweet queer spouse, and a mostly-grown son. They have many gender aspects, but the spitfire mamabear tomboy was the first, and will probably be the last to go.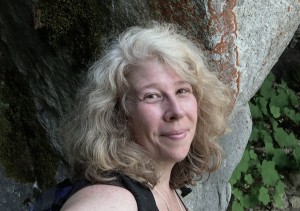 Copper Persephone: In 2004, Freyja called me to Winter Witchcamp and I have been walking a devotional path with both ever since which has ultimately led me to move from California to Minneapolis this year. This camp is my spiritual home and I feel so grateful to be able to step into the joyful obligation of weaving this year. I have been a practicing witch: doing ritual, performance and community organizing / activist / social work with people who live in poverty for over 25 years. I walk a spiritual path devoted to erotic and ecstatic communion with spirit in all of its faces and forms and am called to helping others to experience immanence through many roads including western queer tantric practice and shamanic journey work. I have facilitated workshops in leadership, personal growth, and mask making for many years. First teaching Reclaiming classes in 2001, and then at Witchcamps starting in 2003, I also am devoted to service and organizing work and have been a long time organizer at Witchlets family camp. Dedicated to Freya and initiated into Reclaiming, the Honey Bees and the Bear clan as well as Queer Spirit – those roots and conversations inform my daily life.
Call for new Weavers (we need to fill spots for 2 new Weavers each year)
Camp is organized by a rotating group of people called the Weavers. Each Weaver hold the role for a 3-year term, and these overlap for continuity.
We are looking for two new Weavers each year. All those interested in being an integral part of working this magic, please send us an email with why you're interested, what strengths and experience you would bring to the role, and how you meet the below qualifications. Please email us at WWCregister@gmail.com. The decision is made at Camp and announced at the final ritual on Monday.
In addition to maintaining the finances, structure, and making group decisions about WWC throughout the year, the Weavers hold a number of basic coordination roles. These roles, chosen among the team each year, include: Community Liaison; Treasurer; Teacher Liaison; Teacher and Theme Selection Rep(s); Facilities; Inventory; Fundraising at Camp; Kitchen Liaison; Witchcamp Council Rep; Freya's Bower Liaison; Registrar; Website and Tech. Weavers also hire the Kitchen lead(s) and work with them to select the Hearth/Kitchen team. Weavers fill other positions as needed, and remain connected to WWC spinners throughout the year.
WEAVER DESIRED QUALIFICATIONS:
– Has attended Winter Witchcamp for at least one year (could be this year or any previous year(s));
– Approaches organizing Winter Witchcamp as a joyful obligation;
– Is open to integrating magic into organizing work;
– Has organizing skills and previous organizing experience;
– Works effectively and respectfully in groups;
– Is able to compassionately deal with campers' needs;
– Works creatively and effectively with people of diverse points of view;
– Acts in a professional manner when representing the Weavers and Winter Witchcamp;
– Communicates regularly with the other Weavers via email and phone;
– Is reliable and follows through on commitments;
– Is willing and able to attend 8 or more meetings per year (virtually or in person);
– Participates in email discussion in a timely and thoughtful manner;
– Is able to make a three year commitment to the position.
We'd also really love to hear if you have any interest or experience with online communication tools like Skype, Zoom, Google hangouts and drive, email groups and social media, and maintaining WordPress websites.
Additional skills to help add strength and diversity to the Weaver team may include but are not limited to: board or management experience, and experience as a Witchcamp teacher or organizer.
CHOOSING NEW WEAVERS
– The serving Weaver team is responsible for choosing replacement Weavers;
– In evaluating candidates, the Weavers will consider the strengths and weaknesses of the team as a whole and look for candidates who would add balance, diversity, and strength to the team;
– The Weavers may contact potential candidates, but this contact is not a guarantee that the position will be given to that person;
– The Weavers will seek diverse ways to develop new leaders in the community and will solicit feedback from the community about the job we are doing in that regard;
– New Weavers are chosen by consensus of the current Weaving team during the final few days of Camp;
– There will be a Weaver Breakfast during Camp on Saturday at 8am where community members can learn more about Weaving and come forward as a candidate, even if they haven't yet sent an email expressing their interest.
– The new Weavers will be announced during the closing ritual at Camp (if they didn't attend Camp that year, they may still be selected, and will be called with the news as soon as possible).