See the 2017 Path Descriptions here
Our Continuity Teachers serve 3 year overlapping terms, so there is a shared year for each new Continuity Teacher in order to provide mentorship and stability. In 2017, it is a solo year for Alex as Continuity Teacher (Alex's second year).
I have been living in the Upper Mississippi River Valley, on stolen Dakota land, specifically South Minneapolis, since 2008, and I call Winter Witchcamp and UMR Reclaiming (https://upper-mississippi-river-reclaiming.org/) my home communities. My first call into Reclaiming community was through British Reclaiming in 2004. Before then, I had practiced what I would now call eclectic Paganism, including Reclaiming and Feri based magic, while searching for hearth and kin. Having been brought up in Rome, Italy and having spent all my summers and high holidays in Francofonte, Sicily, where my mom hails from, I have always felt close to the Mysterious Ones and their various manifestations. The temples, sacred sites and stories of mainly Roman and Greek deities were part of my daily landscape and whispered promises of other times and places where polytheism was possible, and when gender-bending femininity and queerness were seen as sacred. The Norse mysterious ones and the runes called to me for a long time. It was when I came to Winter Camp in 2005 following Freya's call, that I found meaning and home for that calling. I consider myself a heathen witch, devoted to Queer Spirit, Freya, Proserpina and Isis, and deepening my relationships with Ganesha and Kwan Yin as daily companions, as well as other Mysterious Ones, such as the Bears, the Bees, the Dragons, and the Ass/Donkey clans. I nurture my relationships to ancestors of blood, spirit, craft, and healing, and treasure my descendants of blood, spirit, craft, and healing. I am a trans masculine, genderqueer, Reclaiming Feri and Queer Mysteries initiate, parent, mentor, family therapist, scholar, priestess, immigrant, community organizer and writer, who strives to live an integrated life and has a life-long passion for social justice. My hearth and communities are central to my life and practices, and I feel deeply honored and grateful to be serving as continuity teacher for my beloved WWC community for a second year. I am so looking forward to co-creating the magic of our story, and community, in this time, with all of you, and with Freya and the World Tree!
Dawn Isid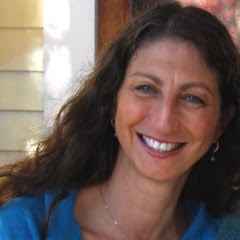 ora
I became involved with the Reclaiming Tradition in the early 80's while still living in my hometown of San Francisco, California. Over the past thirty-plus years, I've been involved with many aspects of my always beloved (and sometimes exasperating) Reclaiming Tradition: community building & teaching, witchcamp organizing and teaching, teacher training and mentorship, as well as roles in tending the greater Web of Reclaiming Tradition such as Witch Camp Council.
In my daily life and practice, I am inspired and guided by the Sacred Elements and profound Mystery that is this daily life.  My practice keeps me aligned and in solid connection with the ecstatic current we know as Life Force. In my professional life, I use the framework of the five sacred Elements to help people discover their soul's unique blueprint; we are such beautiful beings! I hold certification in hypnotherapy, Neuro-Linguistic Programming (NLP) and mediation. I am an initiate of both Reclaiming and Feri Traditions.
A good friend once described me as a "Grounded Mystic" – I really liked that. I have four planets in Capricorn plus my Moon in Virgo and thus can be ridiculously earnest. If you catch me saying something darkly humorous, it invariably means I'm either exhausted or I really trust you (but I'll never tell which).
I am overjoyed and honored to be returning to Winter Witchcamp and look forward to meeting up with you on that beautiful heart-shaped island!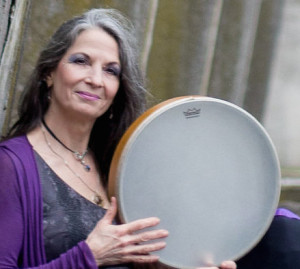 Willow Firefly Kelly
I am a musician, storyteller, and eco-political queer activist witch, wildly in love with this good green earth. I facilitate experiential, transformational magic and music across the U.S., Canada, Germany and Australia, inviting participants into a direct experience of their own magic and powers of transformation. I use music, trance, dance, singing, art, theatre, ritual, and other creative tools as vehicles to explore our depths and the Great Mystery, believing that if we are awakening more fully to our purpose, transformation is inevitable. I throw my arms open wide to the difficult conversations we have about oppression and liberation and I commit myself wholly to developing new ritual technology and ways of communicating so that we can own our experience and access deeper levels of empathy for each other as we work to heal our world and ourselves. I draw heavily on my training and experiences in the Reclaiming Tradition of Witchcraft, the Dances of Universal Peace, the Mevlevi Order of Sufism, my relationship with the green-bloods, and many other diverse mystical traditions. I am deeply grateful to this powerful Winter Witchcamp community and look forward to dancing between the worlds as we awaken more power and beauty within and around us.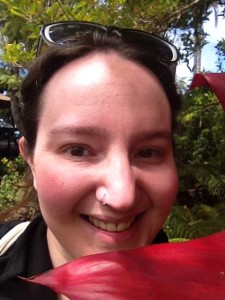 horizon
I believe in your magic. I am a queer fat persyn, a heart magician and a priestess of self-love, infusing my magic and teaching with my understanding of justice/oppression dynamics and embodied healing. I come from a lineage of open-hearted-justice-weavers, bringing play, laughter, truth-telling and a kind presence to my magic. I believe fiercely that healing is interchangeable with connection and that the work of connection is the work of justice. A radical social worker and activist healer from Portland, I am a lifetime student and dedicated practitioner of trauma resiliency, earth-centered healing and anti-oppressive practice. I priestess at the intersections of oppression and trauma, calling on the pentacle birthright tools of breath, embodiment, presence and connection to invoke the amazing neuroplasticity of our ability to heal/repair/regenerate: true magic. I have an absolute crush on Winter Witchcamp and can't wait to make winter magic with you! www.joyfulawakeningpractice.com for more info.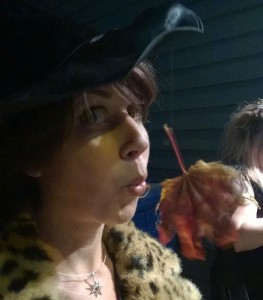 Ember
I am a writing, creek-walking witch of the greenwood. I worship with words and stories – teach them, tell them, write them down, follow their ancient maps to new places in myself and my work. I believe that we are in an initiating world, and that there is enough time for the Great Turning if enough of us offer our whole selves. Opening that way, over and over, is my devotion.
My practice is attached to the elements, the seasons and especially the trees here in my home watershed of Longfellow Creek, tributary of the Duwamish River and occupied land of the Duwamish people. The native trees in this place are vine and big leaf maples, Douglas firs,Western red cedars and red alders. I love this land and also the land of the Mississippi watershed, from Winter Witchcamp to the Ozarks where my grandparents farmed and I learned at a young age about the magic of fireflies.  I believe in transparent learning, teaching from my own edges, curiosity, vulnerability, diving into shadow, and rising with delight. I live in Seattle with my beloved son and my good dog Sunshine. He is a Diana's Grove dog and connects me to my time there, learning to priestess the edge as well as the center.
I've been a Reclaiming witch since 1993, have been attending Winter Witchcamp since 2012, and am so turned on by the depth and power and love of this community… And by the way Freya calls me deeper into my own pleasure and willingness to be a voice for joy as well as change. This is my first time teaching at Winter Witchcamp and I'm honored to work the magic of Freya and Yggdrasil with you.
I write (close to) daily about being an urban witch, the power of stories and the wild and trying to live magically one day at a time. I will also be writing about finding my way deeper into the magic of Freya and Yggdrasil as we journey together toward camp. You can read about any and all of that on my blog: http://www.bonfirewordsandworkshops.com/star-and-stem/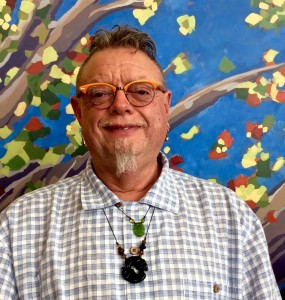 Donald L. Engstrom-Reese
Donald L. Engstrom-Reese lives with his husband Mark, and their family of cats, fish, and plants in their lovely home and yard (Hector House) nestled in the Upper Mississippi Valley of North America. He is, among other things, an artist, a gardener, a vitki, and a hedgewitch. He has been involved with the Mysteries and the Spirit Peoples for well over forty years. His roots thrive in the places between the wild, the domestic, and the devastated. Donald is deeply informed and inspired by art-making, gardening, Queer Spirit, yoiking, Heathen witchery, long walks, singing, deep dreaming, spirit journeying, baking, primal clan-hold magics, the exploration of the sacred realms of sex and pleasure, and his Northern heritage. He is committed to the growth and nurturance of the emerging Cultures of Beauty, Balance and Delight.
Donald has taught sustainable earthy ways of living a life infused with spirit that nourish and strengthen the Emerging Cultures for well over thirty years. His teaching is rooted in a living blend of Queer Spirit, witchcraft, Heathenry, and other primal ways of day-to-day life. He has taught in his local communities, at Earth Conclave gatherings, at Reclaiming Witch Camps, and at Radical Faerie, Queer Spirit, Pagan and men's gatherings throughout North America and Great Britain. He is an initiate of the Queer Mysteries, the Bear Clan, the Oak Clan, the Cult of the Bee, the Wolf Clan, the Reclaiming Witch Tradition, and other Earth based ways of understanding. Donald is also a working vitki and a seithus (ergi seidmadr) who practices the ever evolving forms of contemporary seidr, galdr, and rune working. He yoiks the sun, the moon, and the wonders of life as he moves through his day. Donald is a 'green-blood whisperer' deeply in love with all of the botanical mysteries. He has been declared an elder by many in his communities and is continually learning about and exploring what these joyful obligations actual entail.
Donald daily declares:
I dare to dwell in beauty, balance, and delight!
I dare to see with clear eyes and an open heart!
Bless the Bees!
Bless the Bears!
Bless the Cherry Trees!